No, that's not a misprint. There were many incarnations of the 1950 movie, Destination: Moon.
The movie, as its title makes clear, is a story about the first flight to the moon: the development of the idea, the securing of financial and industrial backing, choosing the crew, and the flight itself, the suspense being whether all four astronauts would make it back. Science fiction icon Isaac Asimov called it "the first intelligent science-fiction movie made." It differed from its few predecessors (sci-fi movies weren't big business in 1950) in trying to be rigorously accurate in its depiction of how the flight would be made.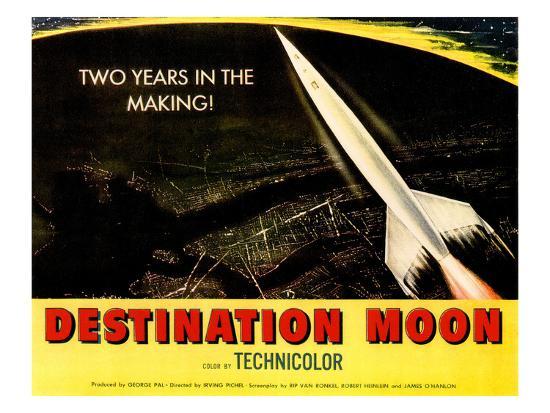 George Pal (1908-1980), a native of Hungary whose animated "Puppetoons" proved popular among the short subjects often shown then before movies, produced the movie. He would go on to produce other fine SF movies like When Worlds Collide (1951), War of the Worlds (1953), The Time Machine (1960), and The Power (1968), all based on classic SF books.
Destination: Moon was also based, very loosely, on a book: Rocket Ship Galileo (1947), the first book published by another SF icon, Robert A. Heinlein. It was initially rejected as by publishers who saw going to the moon as "too far out." Written for young readers, it had three teens accompanying a scientist on what was supposed to be the first moon flight—but when they land, they find Nazi Germany has already established a base, and conflict ensues. The Nazi base never made it into the movie, but Heinlein did. Pal hired him to help write the script.
The movie got lots of pre-release publicity in newspapers and magazines, so much so that a small studio. A small studio took advantage of this by shooting its own low-budget outer space exploration movie (Rocketship X-M) and rushing it into theaters 25 days ahead of Pal's film, taking advantage of Pal's publicity campaign. (It wasn't a bad little movie, in its own right, but didn't try for the Pal/Heinlein authenticity.) But it was Pal who started the boom in 1950s SF films.
A radio show, Dimension X, did a half-hour version of the Destination Moon story on June 24, 1950. The movie has a last-minute crew change due to illness for someone to handle the communications, but who is unfamiliar with how other things work. Dick Wesson plays "Joe Sweeny" as a guy from Brooklyn and, in getting answers to his questions, the audience learns, too. In the radio show, the Sweeny character is purely mercenary, going along only because he is being paid a lot of money. In both versions of the story, though, the character is pivotal in how the voyage turns out. The program was interrupted momentarily to announce that North Korea had declared war on the South Korean republic. You can listen to it all right here:
https://www.youtube.com/watch?v=RlgFOcJEknw
But that wasn't all. There was also a 78 rpm children's record released, eliminating the Sweeny character altogether and replacing him with the chief scientist's young son. You can listen to that, as well:
https://www.youtube.com/watch?v=CEdUfOC4L0w
Nor was that all. Strange Adventures, DC's first SF comic book, featured a capsule version of the movie in its first issue. (It would run for 244 issues.) And then Fawcett Comics published an adaptation of the entire movie in its first issue of Fawcett Movie Comics. I remember, as a kid, debating for weeks whether to spend 10 cents on that comic book when I was reading more of Fawcett's Captain Marvel tales and its comic book versions of various movie cowboys like "Rocky" Lane, "Lash" LaRue and Monte Hale.
I would be glad I made the investment. The movie came to our local drive-in theater, and I was nowhere nearly old enough to drive. I had to talk my mother and aunt into going to see it, so I cold tag along. And showing them that comic book went a long way toward doing it.
Even all that is not the end of the Destination Moons. Heinlein himself wrote a novella version of the story, first published in the September, 1950, issue of Short Stories magazine. It would later be published in a three-story book collection, and is now available in eBook format. Again, the characters in the story change, as does the ending.
The movie won an Oscar for its special effects, even though they might seem dated today compared to the computerized stuff. Still, it was the movie that, practically singlehandedly, made science fiction respectable and paved the way for so many others. It is still worth seeing. Lunar landscape paintings were done by astronomical artist Chesley Bonestell. Composer Leith Stevens contributed a classic soundtrack. The speech by the first man on the moon is not dissimilar from what Neil Armstrong said when he read from the Apollo 11 plaque. Even Woody Woodpecker appears in the original movie. It may be dated, but it remains a classic.
***
Book titles by Paul Dellinger (available on Amazon, B&N):
Secret Invasion                                                                                                                               Fuzzy (with Tom Angleberger)                                                                                                             Mr. Lazarus and Other Stories                                                                                                            The Sky-Riders (with Mike Allen)